Are you wondering how the pricing plan for our anti-piracy plan works? Then, my dear friend, you have come to the right place.
The anti-piracy pack follows a range pricing model. As you might have already noticed when you upgraded to paid plan. If not, here's a screenshot of the same.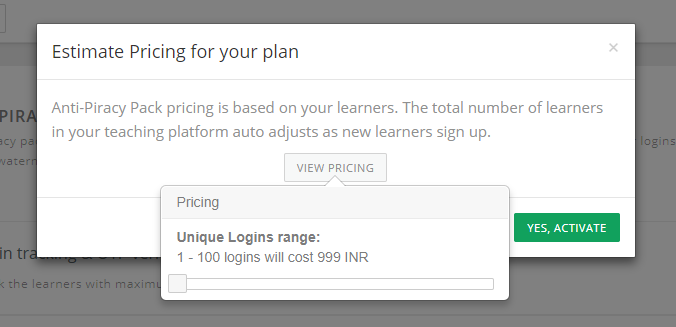 And just to let you know, this range pricing will cover your custom watermarking feature as well.
Now, the pricing plan, right? Okay, here are some of the questions we encountered after the successful release of Anti-piracy pack
How do the range thing work for my online institution?
> You have to select the present number range of learners you are teaching. Suppose it is 50. So initially it will be 1-100 logins for you. But as new user signs up and more OTP are sent from our end, the slider will auto adjust itself. So suppose, you have 60 new sign ups (total 50+60=110) after enabling anti piracy pack, so the slider will auto adjust it to next slab of 101-150 logins.
What if someone comes just for fun, and try to sign up? Those fake sign ups will shoot my range slider to abnormally right!
> Unless an OTP is sent from our end, and verified by the learners, s/he will not be added to your login range counter. Only learners with verified number will be added to list and the charges will be accordingly.
How will you bill me for anti-piracy pack?
> Your antipiracy pack will be billed at the end of the month, on a post usage basis. The charges incurred for the anti-piracy pack will be added to your monthly invoice under add-on tab.
I have international students, will they receive OTP as well?
> The regular OTP feature will allow you to send OTP only to your Indian students. If you want to enable OTP for International students, contact our sales team or chat with our support agent.
Did this answer your question? Thanks for the feedback There was a problem submitting your feedback. Please try again later.Yes No No results found