Once you log in to your Learnyst admin account you will see the admin dashboard. While it retained some of the features from the old one, like the quick links to your courses, learners etc, you will see four new analytics tool in the central part.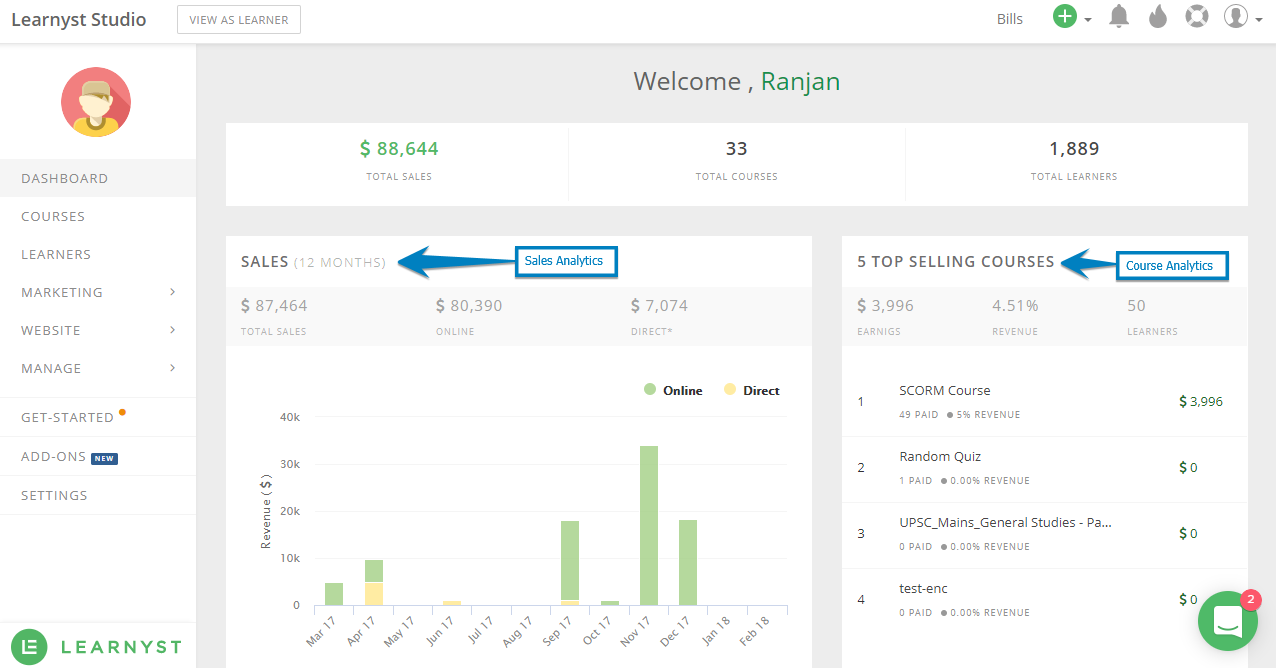 As you can see in the screenshot above, the first box below the welcome message shows three important information.
Total Sales is the total course sales amount of your online school.

Total Courses is the total number of courses in your school

Total Learners shows you the total number of students in your school.
Now coming below the first box, you will see two part boxes marked as Sales and 5 Top Selling Courses.
Sales - This tool will give you comprehensive idea about the sales stats of your online school. You will get to know about the total sales, online sales, offline/direct sales.
Note: The data shown here will reflect the data of maximum of 12 months and minimum of 1 month. Also, if you make a online sale for 0 INR, the stat shown here will take the data of the actual course price.
5 Top Selling Courses - This will give you insights about your course/test performance as you can see the top 5 courses/tests that contribute to your monthly revenue. Here you will get to know about, total earning from top 5 courses, % of total revenue that came from selling these 5 courses and number of total learners signed up for this course.
Note: The information shown here is based on the data collected from the beginning of the school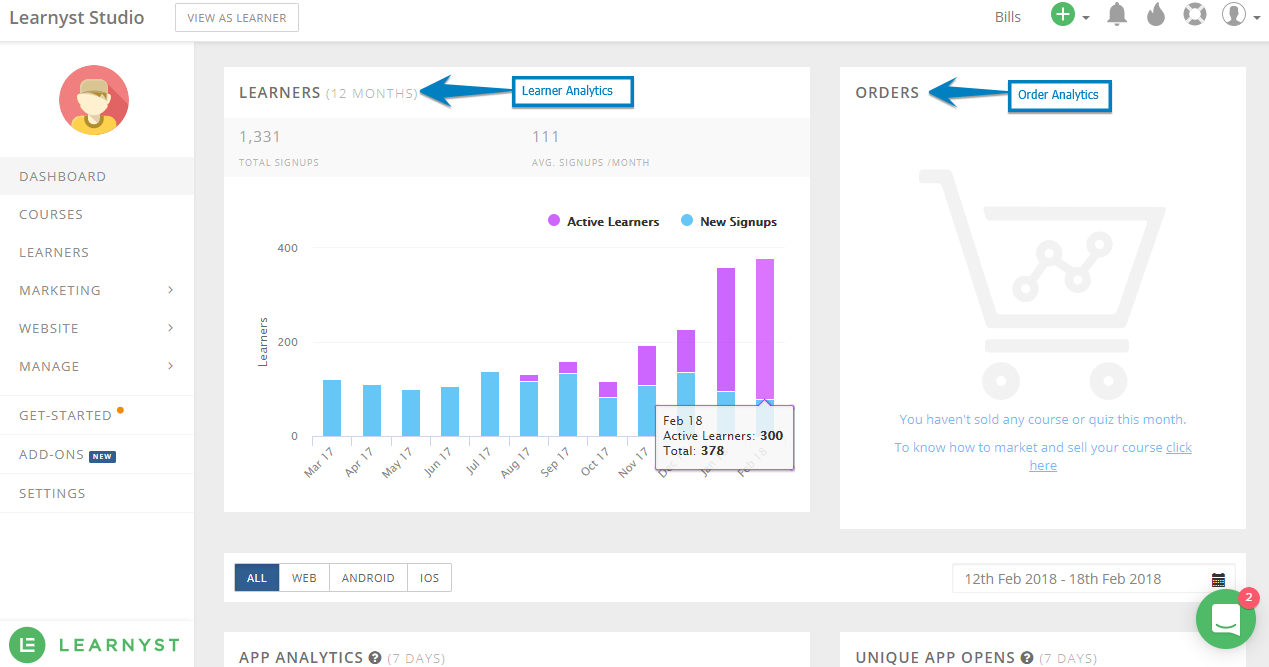 The next two boxes show you Monthly Active Users (MAU) and Orders.
Monthly Active Users (MAU) gives you the insight regarding your learners' activity and stats on new sign ups. Active learners are those, who has loggged in to their account atleast once in last one month. And as the name sugegsts, new sign ups are your monthly new sign ups.
Note: The information showed here is based on the data of past one year.
Orders gives you insight about your monthly sales statistics. The analytic tool will show you information with two important tags, Aborted & Success. Aborted status means that the payment has not been made even after clicking on buy, where as success means that the payment has been successfully made.
Note: The information showed here is based on Month to Date basis. Which means if you are opening your admin dashboard on 16th of June, then the information shown here will be from June 1 to June 16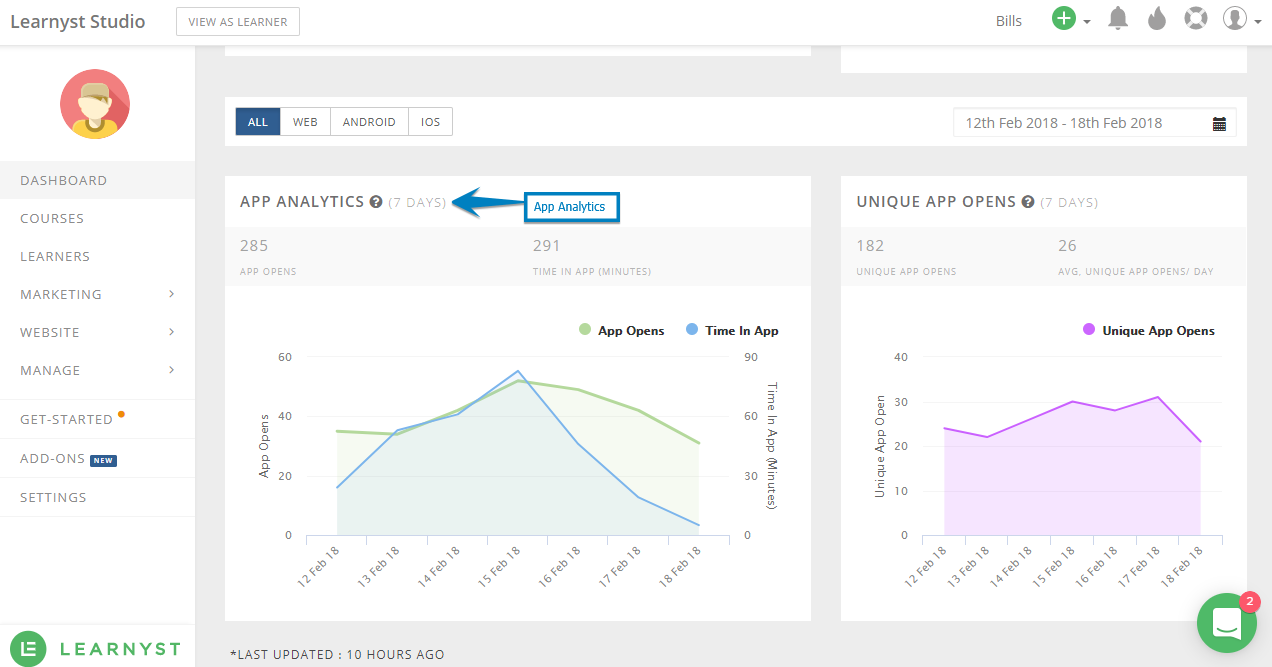 And the last two boxes show you App Analytics and Unique App Opens.
In App Analytics a peak of app opens on a particular day will tell you about what is the preferred study time of the learners and time in app says the amount of times learners are spending on the app.
Note: The information showed here is based on the data of past one week. However you can select a time frame of your choice
Unique App Opens tell you the total number of unique learners who have opened your online learning app
Did this answer your question? Thanks for the feedback There was a problem submitting your feedback. Please try again later.Yes No No results found