On Learnyst, you can offer coupon codes to your learners and promote your online course and mock test sales like never before.
So how do I add coupon code, you may ask. It is really simple and here is a step-by-step guide on how to add coupon codes to your courses/mock tests.

To add coupon codes, visit your admin dashboard and,
Click on Marketing from the left navigation bar. From the drop-down select smart coupons.

Once inside click on Create Coupon Code

In the next screen, you can add a discount code and coupon name as shown.

You can now enter a discount type as a percentage or fixed amount. For e.g: I have given a discount type as a percentage

You can choose to apply this coupon for all products or for specific products like in this image.

The below features, let you decide how you want the code to be used.
For e.g: You can limit the coupon code by Quantity ie: the number of times the coupon can be used in total.

The default value will be 100. You can go ahead and increase or decrease the value.
Please note that this is an optional field.
You can also restrict the coupon by a device like web, android and iOS.

You can also set the end date for the coupon code.

The advanced options give you more control over how your coupon codes should be used.
For e.g: you can set a maximum discount amount. For e.g: a student can use this coupon to get a max discount of 100rs.

Next, the minimum purchase feature makes your coupon usable only if the student makes a minimum purchase. For e.g: to use this coupon the student should buy a course worth 1000 rs.

To prevent students from sharing your coupon codes among peers, you can limit the coupon usage per learner
For e.g: the below coupon code can be used by a learner only once.

Lastly, you even schedule the coupon codes, using the start date option and plan your marketing campaigns in advance.

Once you are done, click on Save the coupon to save all your changes.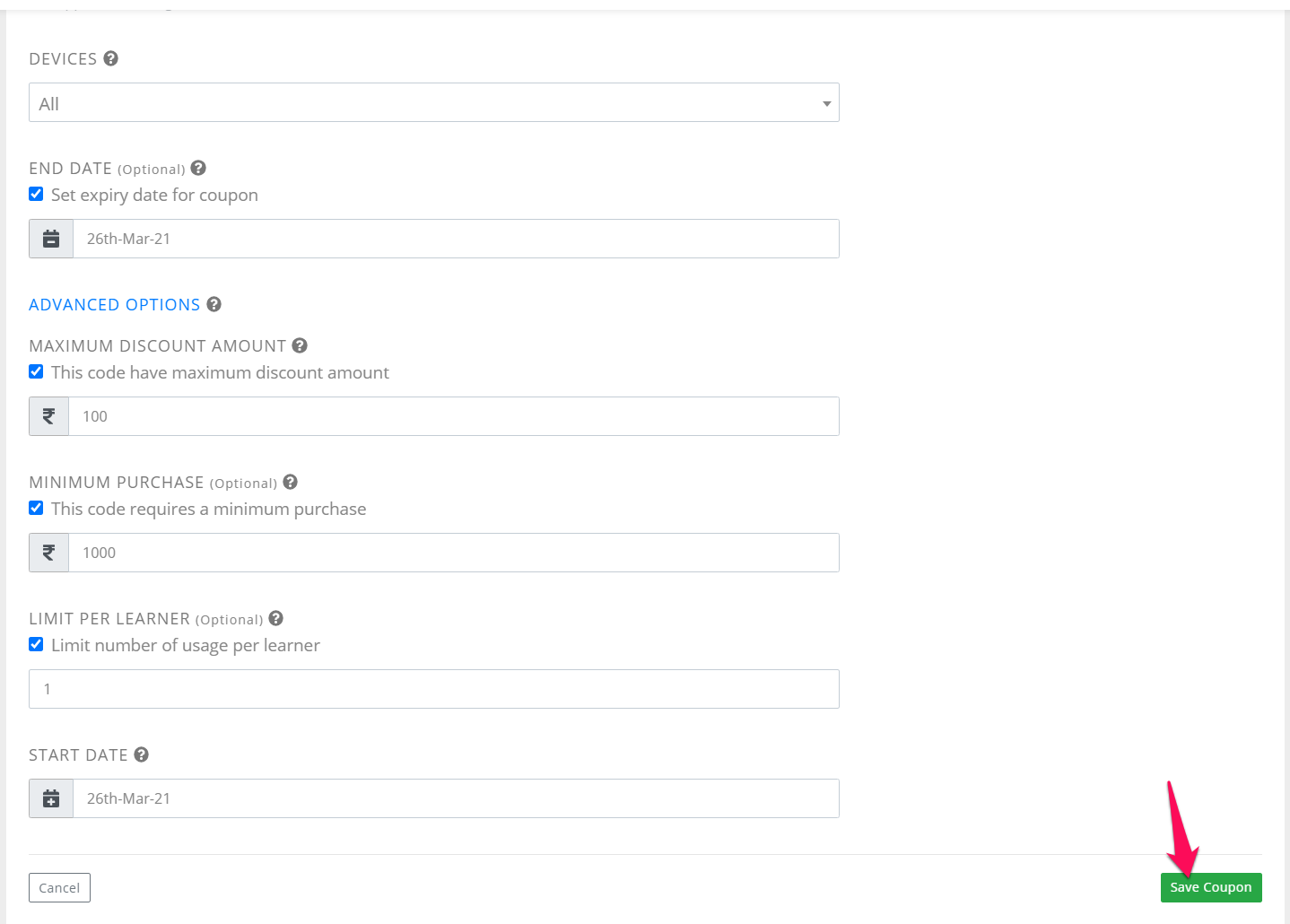 Once a coupon is saved, it will show as active as in the below image. Please note that you cannot change the name of the coupon code after creating it.

You can still go ahead and edit the changes in the coupon. Just click update to save the changes. For e.g: I have removed the max discount amount from this coupon.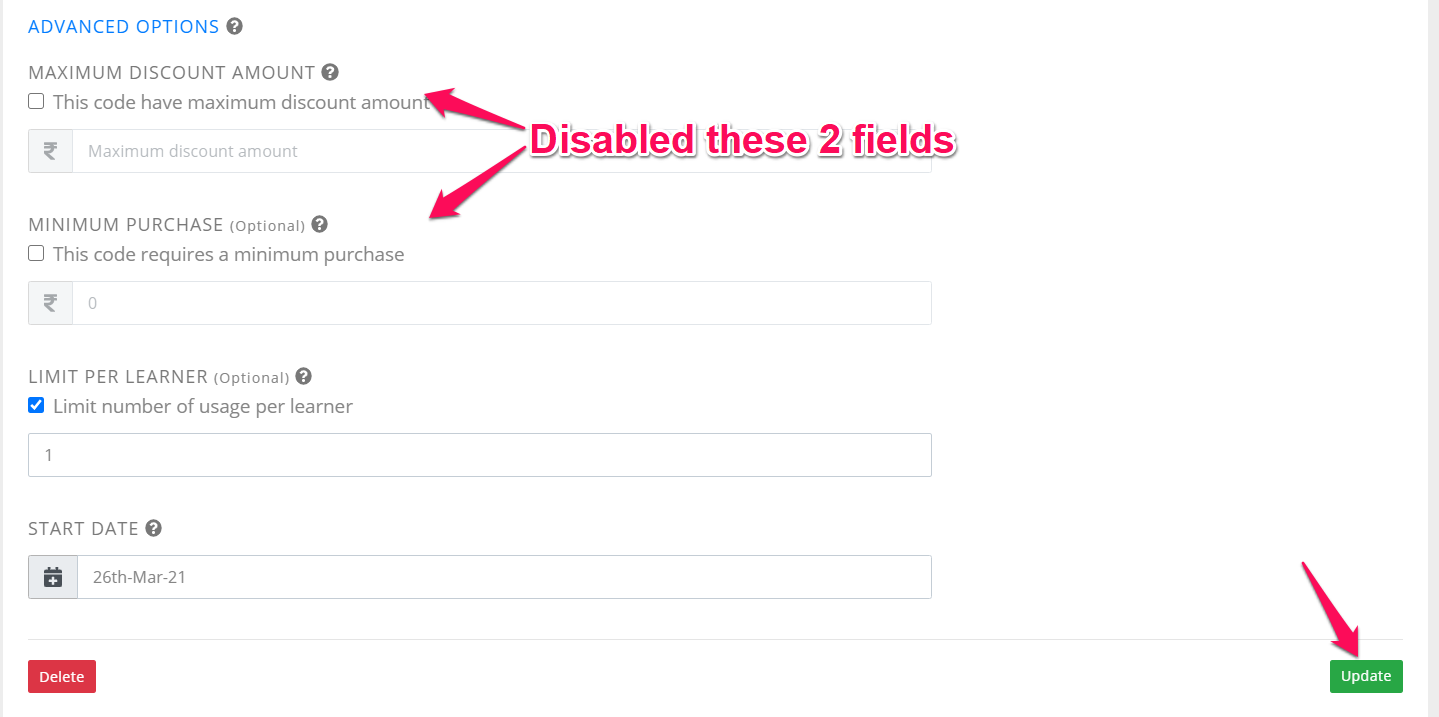 To disable the coupon click on the disable button on the top right corner.

When students make the purchase, they can click on the course buy button and select Apply coupon option.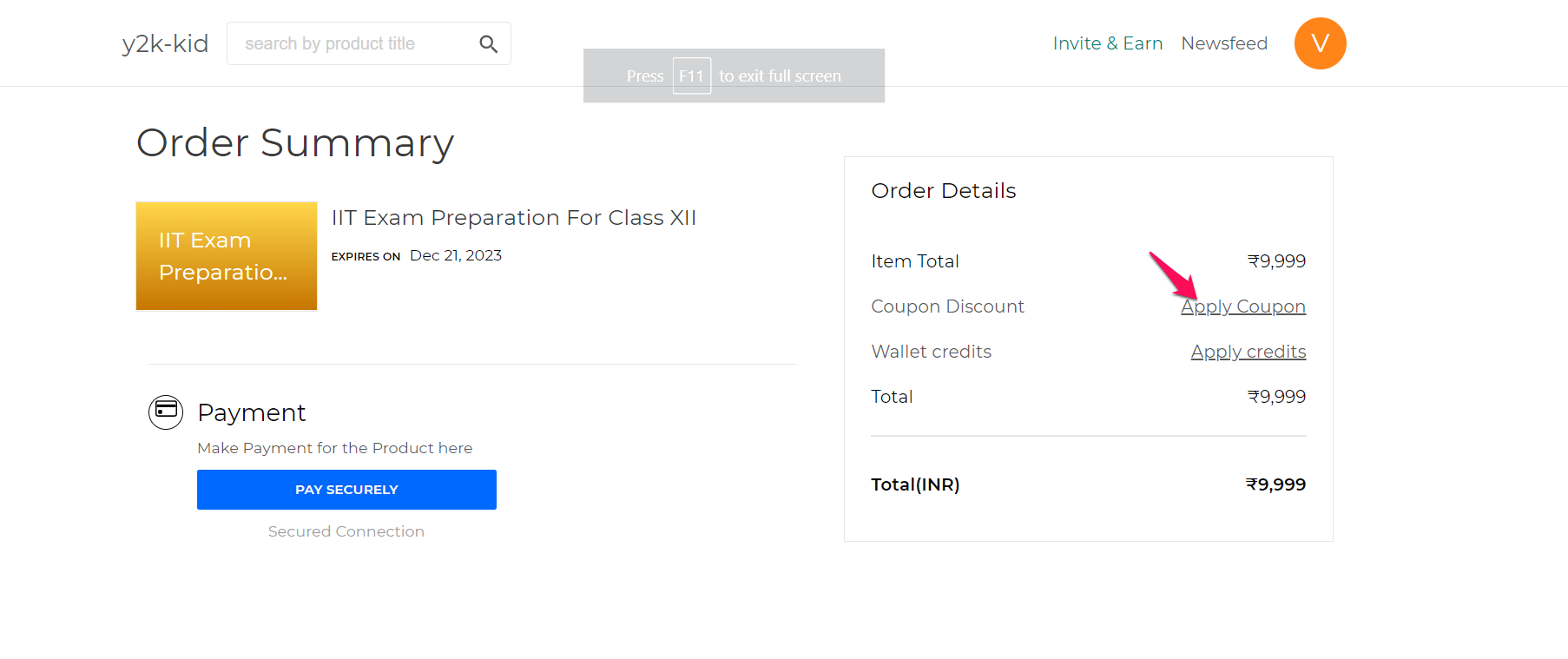 Here, they can apply the coupon code, which in this case is SMART50 and click on apply.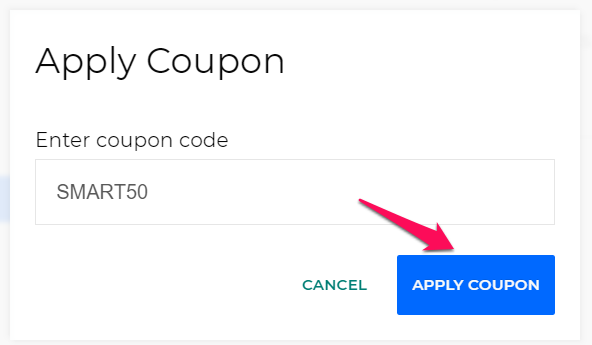 Now, once they click on apply the system will automatically deduct the amount from the final course price.
For e.g: the student will get a 50% discount and will pay only 5000 instead of INR 9999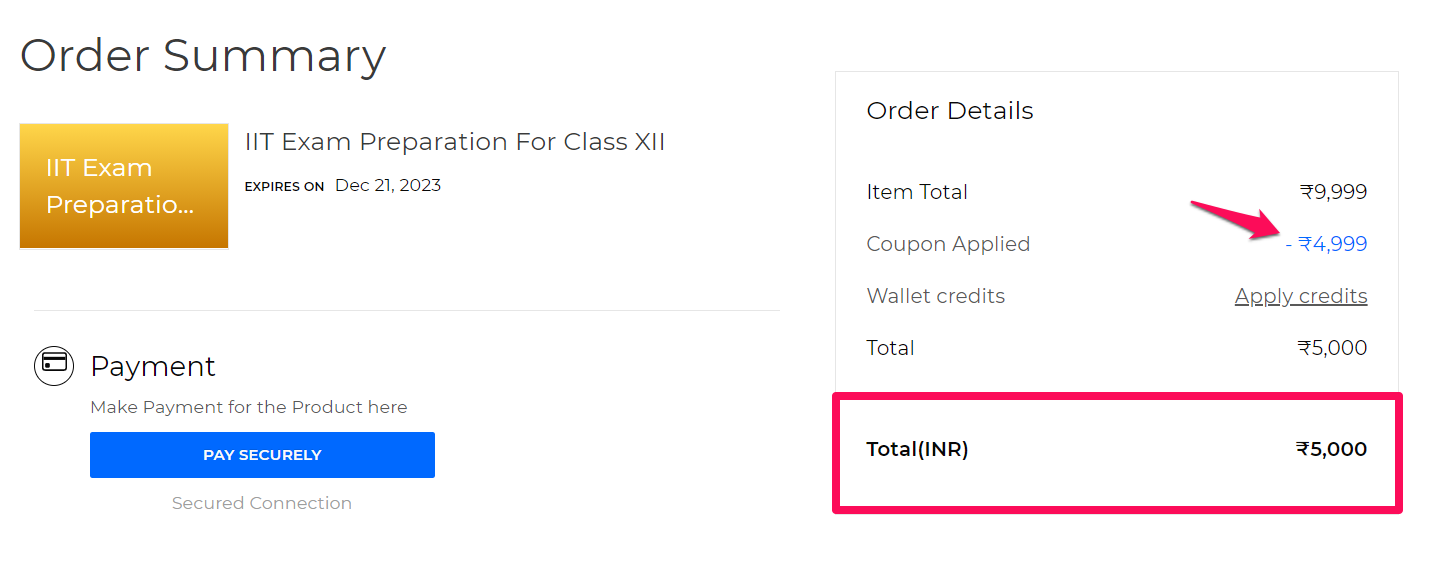 Hope this article, helped you use coupon codes to boost your course sales. Do, check our other marketing articles from the marketing section.
Did this answer your question? Thanks for the feedback There was a problem submitting your feedback. Please try again later.Yes No No results found