Your admin dashboard is like your tool shade. You will find all the necessary tools linked to your admin dashboard. And knowing the features and tools located on your admin dashboard will help you get the best out of it.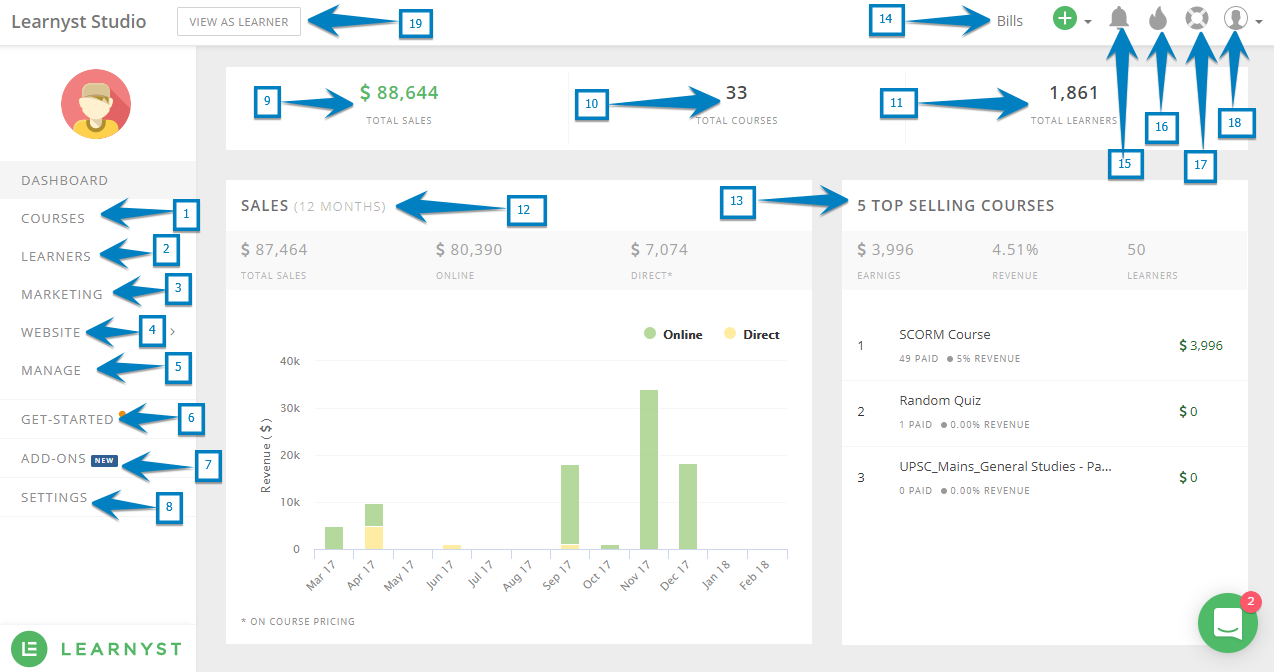 Courses: As the name suggests, it takes you to your courses page

Learners: As the name suggests, it takes you to your learner management page

Marketing: It takes you to all the features that you can use to plan and execute your marketing campaigns.

Website: It helps you to customize your websites feel and look and also create a custom learner sign up form

Manage: This button will help you in managing all the learner interaction like discussion, reviews, answer reviews, support requests

Get Started: This shows you the essential steps of starting your online teaching portal from scratch and make it big

Add-ons: Your magical portal to all the add on features offered at Learnyst

Settings: Your custom shop for tinkering with all the settings.

Total Sales: As the name aptly suggests these digits represent your total sales figure, including online and offline sales

Total Courses: Again, as the name suggests, this is the total number of course in your online teaching portal

Total Learners: And the total number of students that you have in your online institution

Sales: A graphical representation of your 12 months sales, both online and offline

5-Top Selling Courses: If the name is any less suggestive, this is a tab for the all time 5 highest selling courses of your online institution

Bills: This is where you look up your usage, monthly/yearly invoice and also upgrade your plans to get the best features

Notification: Any notification related to your online institution will be shown to you at this place.

Whats New: That Learnyst release log. Anytime we release a new feature, it will come on What New. In case you miss the email from us, you know where to look next time

Learnyst Knowledge Base: This is where you are right now. That tiny button on your top nav bar will lead you to this very page, suppor.learnyst.com

Admin Profile: That is your admin profile, you can make all the necessary changes to your account from there.

View As Learner: This button gives you the opportunity to preview your online institution before making it public to all your learners.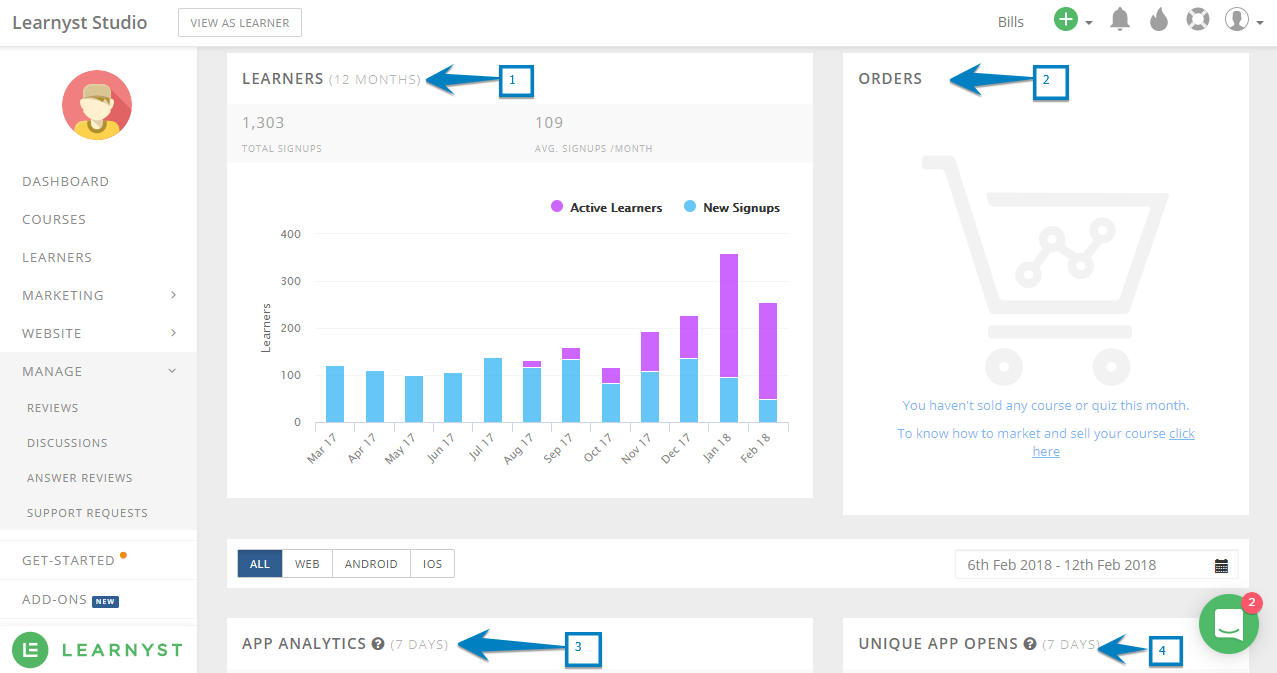 Learners: Your learner analytics for last 12 months will be shown here

Order: And you sells analytics is what we will show you here

App Analytics: The analytics of app opens and time in app (learner engagement) will show up here

Unique App Opens: The number of time an unique user opened your app, will be documented here
Did this answer your question? Thanks for the feedback There was a problem submitting your feedback. Please try again later.Yes No No results found