Wouldn't it be great, if could delegate specific roles to your team members?
For e.g, you could delegate Rohit from your team to handle your website & product marketing.
Rohit will only access the marketing features. All the other data like student reports, courses, or mock tests will be hidden from him.
This form of task delegation is possible with the new sub-admin feature.

Just like in the above example, you can create sub-admins with specific roles.
(Watch the video from 1:52s-4.05s) or follow the steps below.
Let us see what the various roles are and what they can and cannot do.
Let us start with the first role,
Root Admin
Suppose, you are out of town or you are not present to do an important task, you can delegate it to root.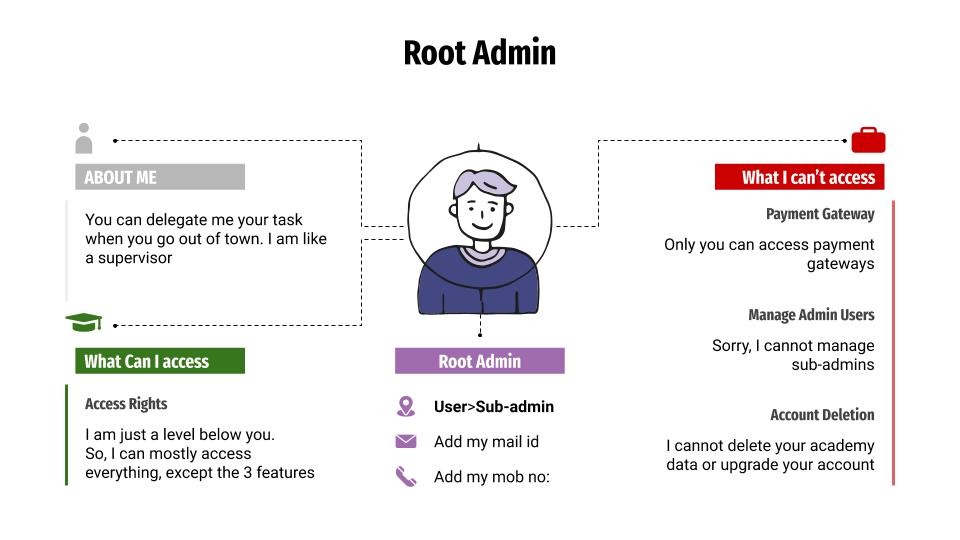 This sub-admin can access all the features that you can access except for payment gateways, admin users, upgrades & cancellations.
Content Admin
This sub-admin can manage all products, categories, student discussions, review essays, student reviews, question pool & newsfeed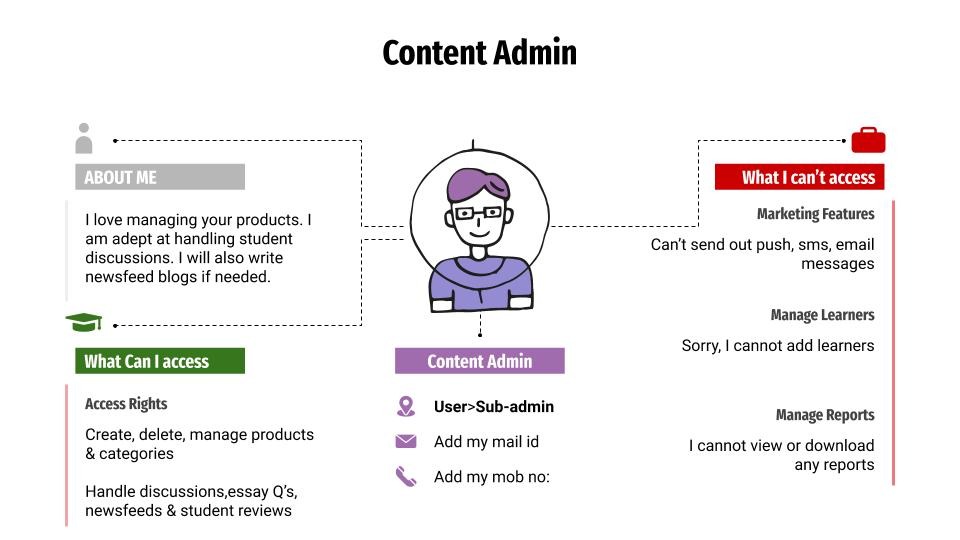 Content Admin +
This sub-admin is just like your content admin + has access to all reports and manage learners.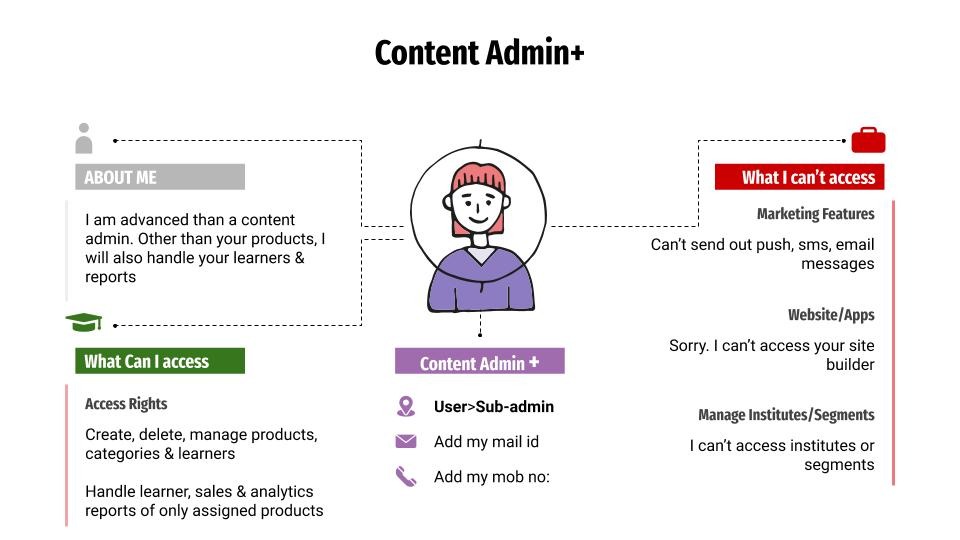 Marketer
Has access to the website site builder and all marketing features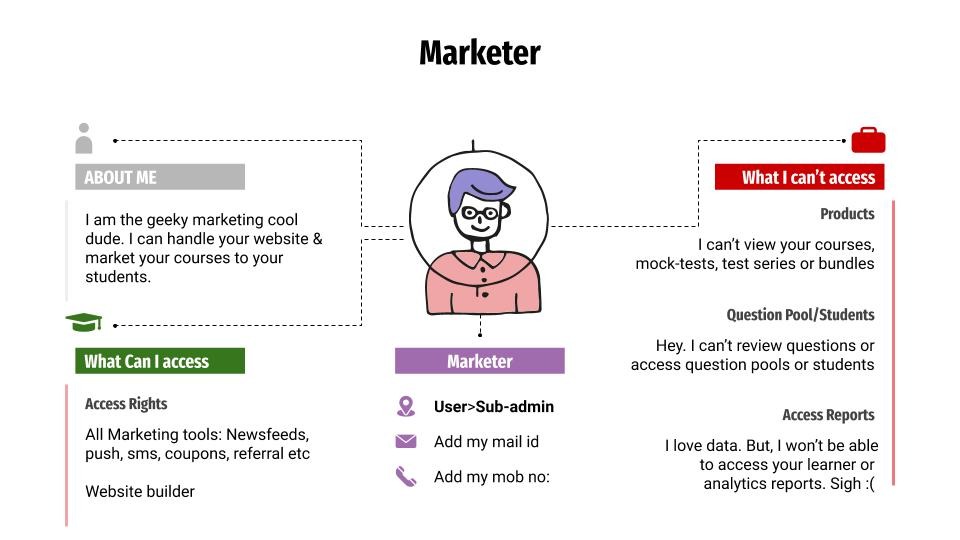 Teaching Assistant
This sub-admin is similar to your Content Admin but doesn't have access to products.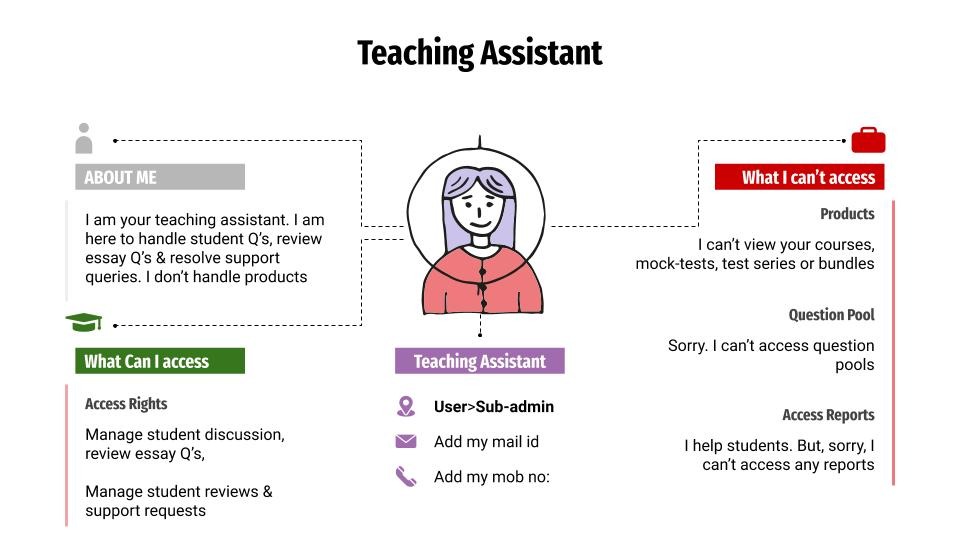 However, the teaching assistant can manage student discussion, review essays, manage review, manage student support.
Custom Role
If you want to enjoy the full benefit of flexibility from your sub-admin feature, you can create something called custom roles.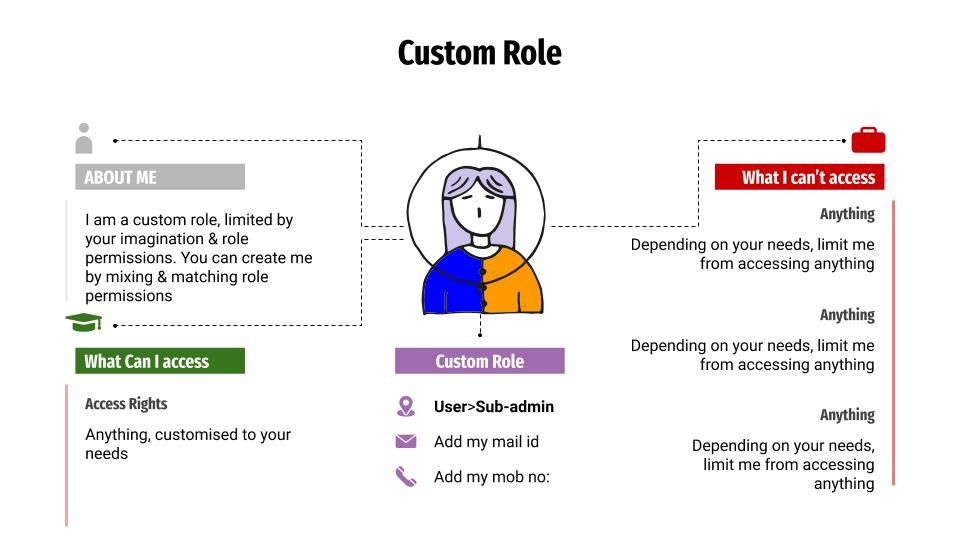 This role, allows you to mix & match sub-admin permissions to create a totally new role that meets your business needs.
Note: Custom role is available only in the premium plans. And you can create up to 5 custom roles.
Conclusion
So, hope you go to know what each role can and cannot do. Let me know if this article helped you clear your doubts on sub-admins.

Now, go ahead and start adding your sub-admins. Try the standard role, to begin with, & if you want more flexibility upgrade to premium plans to avail custom roles.
Contact sales@learnyst.com to avail of really amazing discounts & pro-tips. We are here to help.
Lastly, if you want to know how to use the sub-admin feature, please refer back to the sub-admin master guide for more details.
*Image Credit: slidesgo.com, freepik.com
Did this answer your question? Thanks for the feedback There was a problem submitting your feedback. Please try again later.Yes No No results found